IMPERLAN (Special Waterproofing for Mortar)
by Debiclaire Projects Limited/Waterproofing solutions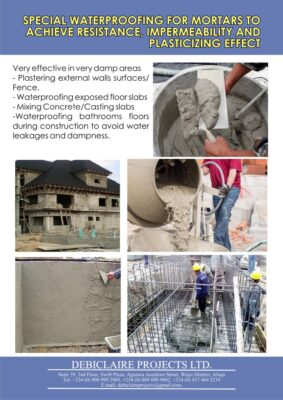 APPLICATION
A LITRE OF IMPERLAN CAN BE USED TO PREPARE 2 BAGS OF CEMENT
IMPERLAN waterproofing and water repellent is recommended
for making mortars more impermeable and giving them greater resistance than
usual. Adding IMPERLAN allows the amount of water in the mix to be reduced by
up to 5% due to its plasticizing effect on mortar.
Special Waterproofing for preparing mortars.
Very effective in very damp areas that require waterproofing
against dampness due to the water table level.
• Can be added to mortar for plastering external walls,
surfaces/ Fence, screeding exposed floor surfaces to give it more resistance,
impermeability and plasticizing
•Mixing Concrete
•Casting slabs
•Screeding bathrooms and toilets during construction to
avoid water leakages and dampness.
PROPERTIES
Does not change the properties of mortar itself
Gives the mortar good waterproofing and better compacting
Increases adherence
Reduces the amount of water in the mix
Increases resistance to attacking agents and to
freezing/melting cycles
Reduces vibration time
Keeps the mortar's surfaces cleaner, without blooming
Removes pores from mortar
Free of Chlorides